Can God save the so called 'God'?
When you look into the line up of Ajith's new movies & if you are unaware of his current market status..you may tend to think that this guy is someone different & great. Yes, he 'was' and not 'is'.
Can he atleast recover his lost grace - in his upcoming movie 'Godfather', yet to be started
Bala's 'Nanae Kadavul'
(meaning 'I am the only God'!!!), a new untitled movie proposed by
Selvaraghavan (with Dhanush!! & Bharath
)? (Let the 'God' in his titles atleast help him to achieve).
Even now, his
'Godfather' is struggling
to move fastly, which is contrary to KS.Ravikumar's fast phased work culture. KSR used to churn out movies very fastly contrary to the likes of Maniratnam, Shankar etc., His objective from his very first movie (
Puriyatha Pudhir
) was to make money for the producers. So far, he succeeded with that clear objective. He knew the pulse of the audience. Can he do that trick for Ajith?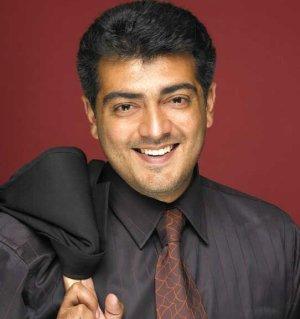 Why do you want to be a 'God'?

Sometimes, I pity Ajith. The Charming hero of the late 90s had earned this status on his own. From the beginning of his career, he used to act as a lover boy and succeeded well. If you look into his graph the romantic movies like
Aasai, Kathal Kottai, Kathal Mannan, Amarkkalam
etc., pushed him to the second tier. His releases in 1999/2000 -
Valee, Kandukondein Kandukondein, Mugavari
- pushed him to the top tier.
Unfortunately, the slide started after the diversion of his attention to his passionate hobby of Formula Car racing. He started signing movies to fund his car racing ambitions. Good, he was determined to fulfill his passionate objective. But, that had cost him his well built movie career, which was built purely on his efforts.
He couldn't give a super hit after Year 2000. Except
Dheena / Poovellam Un Vaasam / Villain / Attagasam
which were commercial hits, his other ventures were complete flops (
Citizen, Red, Raja, Jana, Ji
). He couldn't get a name in the Bollywood as well, as Shah Rakh Khan's 'Samrat Ashoka' didn't succeed in the box office.
Now, he is squeezed too much between the veterans & new entrants, that he will move out of the field unless his upcoming movies succeed. Can he change his strategy, atleast now? Let him not do the larger-than-life role anymore. Let him come out with some realistic movies (to suit his well built body; that doesn't mean that he has to do 'dadaa' role always. We are sick of it)
I hv confidence in KSR (eventhough I don't bet on 'Godfather' as a classic), Balaa (eventhough I am not comfortable with the title) and Selvaraghavan. But if these movies fail, it will be too difficult for Ajith to find producers anymore. (See Madhavan's plight).
BTW...did I spend so much time on a guy, who has not given any hits in the recent past? I don't regret, since I can still recollect his performance in movies like Valee, KK & Mugavari. Let's hope he remains in this race atleast (now that he has quit his Car racing ambition).