Chaos - can this be regulated?
-
Will the chaotic conditions in Bangalore affect the investment flow? Already the city is facing tough competition from other growing cities within India. If there is no co-ordinated effort from the present Govt., there is every likelihood that the growth process will be slowed down.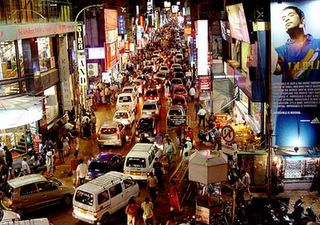 Can this be regulated?
Courtesy: The Economist

Eventhough, India's IT industry has several advantages over other countries (read the
article in The Economist
), there are many negatives factors as well affecting the growth of the industry. (Indian Express's concerns
one & two
).
During my recent trip to Shenzhen in China, the tour guide told that the current modern city is only 2 decades old. Earlier it used to be a mere fishing village. Now there are so many skyscrapers and excellently built roads/expressways within a short span of few years. Need to really appreciate their pushy attitude, in achieving their target.
Now, how long will it take for Bangalore to redevelop? Is the democratic process hampering the growth, achieved by our authoritarian neighbour?