Kolangal (with more 'dots')
.com, .net, .org, .info, .biz, .name, .pro & many other country dots
Some more dots were approved
in the recent meeting of the Internet Corporation for Assigned Names and Numbers (ICANN). They are .mobi, .jobs, .post and .travel
ICANN is still debating on other dots like .asia, .mail, .tel and .xxx (!!!)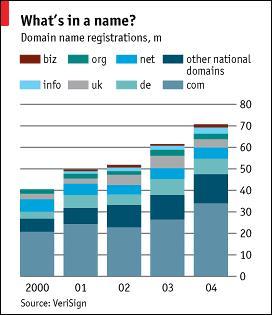 Courtesy: The Economist

ICANN has already started convincing the firms handling .pro registration on a new issue. The domain .pro, supposed to be for qualified professionals, is sought after by sex professionals as well. After handling this issue, it may look into approving new '.xxx'.
In addition to the above issues,
United Nations is dragged into the issue to handle the world wide domain governance

,
replacing ICANN. If the governance shifts to the UN, will it be satisfactory? Need to wait and watch.