Missed & Found!!!!!!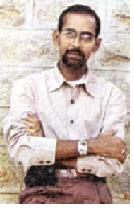 Can you identify the person in the above picture? (eventhough the picture quality is not that good!!!!)
He is none other than the erstwhile young hero Anandbabu (son of Nagesh) who acted in movies like
Thangaikkor Geetham, Paadum Vaanampadi ('Disco Dancer' remake), Udhaya Geetham,
Pudhu Vasantham, Vanamae Ellai
etc.,
At the age of 40 plus, he has now returned to the film arena -- not as an actor. But as an assistant director. He has joined Director Charan, as his assistant in his new movie
'Idhya Thirudan'
starring 'Jayam' Ravi. He is hoping to do well & grow in his new avataar.
Hope he impresses the audience in his new role, which he couldn't do that well in his previous career. (Just recall how Vikram was behind the screen, for a long time, after his intial introduction in
Thanthu Vitaen Ennai & Meera
. He had to wait for a long time, before his
'Sethu'
break).
Hope the motivation & spirit which brought Vikram to this height, will help AnandBabu as well. All the best.