DBI - Next venture on the Young Blood...
.
Last weekend was a long one, since Monday 23-May was a holiday for Vesak day here (Buddha Poornima). It happened so, that I had to watch Prasanth's 'Kannedhirae Thondrinaal' and Vijay's 'Love Today' these days. These movies impressed me even earlier, when I watched for the first time couple of years back. Obviously, they impressed me this time also...
This had prompted me to delegate the investigation work to our DBI team, who impressed me as well as you, fellow bloggers, with their detailed first field report (two weeks back). They started their operation immediately, to find out more on the latest directors who had made a mark in the last few years. Indeed, there were couple of memorable movies in the last few years delivered by these young blood, including those two (KT & LT). Suddenly, we were siezed of the opportunities of seeing their outputs further.
Inspite of their other assignments, our DBI team came out with their findings quickly....
Ravichandran
His first movie 'Kanndedhirae Thondrinaal' (Prasanth, Simran, Karan) impressed me a lot. Deva had also composed some hits for that movie (like Easwara, Chinna Chinna kanmani...). The screenplay of that movie was perfect and it was a decent hit for Prasanth at that time. But, what is the use? Ravichandran couldn't materialise that screenplay success in his successive movies. Both his following movies 'Santhitha Vellai' (Karthik in dual role with Kousalya & Roja) and 'Majnu' (Prasanth with Dimple Kapadia's daughter) failed to impress the audience, eventhough the songs of 'Majnu' were hits (Harris Jeyaraj).
He couldn't be located in the newscircle by our DBI team. Any news? Pl. share with us.
Balashekaran
'Love today' was a movie which delivered a different message and portrayed Vijay in a different role. The Director continued his rythm with his subsequent movie 'Thulli Thirintha Kaalam' too (Kushboo, Arunkumar, Karan). It delivered a different message for those unemployed guys sitting on the railway track walls. Kushboo & Karan delivered contained appreciable performances in that movie. After this success, the director moved to Telugu film to deliver some decent hits like 'Priyamain Neeku', 'Ammayi Bagundi' (Remake of 'parthipan kanavu') etc., He is continuing there.
Balashekaran
Will he come back to Kodambakkam, with some of his off-beat themes? Need to wait and watch, if he can get a producer like RB.Choudry again.
Sasi
The guy who delivered 'Sollamalae' (Livingston, Kousalya, Karan) followed by 'Roja Koottam' (Srikanth, Bhoomika) is nowhere in the race now. It is a pity that a guy who can deliver two watchable movies (leave apart few extreme portions of 'Sollamalae') couldn't materialise that success later on. I remember reading somewhere recently, that he is trying to make a comeback with a new movie. If at all he comes back, hope he delivers to suit today's audience taste.
Ezhil
Eventhough, he delivered few commercial hits like 'Thullatha Manamum Thullum' (Vijay, Simran) 'Pennin Manathai Thottu' (Prabhudeva, Jaya Sheel, Sarathkumar) 'Poovalleam un vasam' (Ajith,Jyotika) etc., his subsequent release 'Raja' (Ajith, Jyotika) didn't click very well in the box office. Now he has released
his latest movie 'Amudhae' (Jai Akash, Madumitha)
which has received decent reviews. But I don't perceive this film to be a big success in the box office. He needs to put some more efforts with some front-end heroes to stay in the race.
Susi Ganesan
His 'Virumbugiraen' was in the can for a long period, before its release. This Prashanth-Sneha (real debut movie for her) starrer didn't impress me that well, due to the disarrayed screenplay. But the director got noticed by the audience, due to Prasanth & Sneha's preformances. Eventhough, this movie got delayed, Ganesan released his next movie 'Five star' earlier to that. With some fine tunes of Anuradha-Sriram couple and the screenplay, this movie had a decent run in the B.O.
Susi Ganesan - 'sweet'u seekiram vennum!!!
Now he is in the news again with
his planned movie 'Sakkarai'
. Let us see, if he delivers it and sweetens our taste buds with this 'Sakkarai'.
Azhagam Perumal
The Assistant Director of ManiRatnam, who acted in 'Alai Payuthaey' (as the drunken house owner of Maddy) impressed the audience very well with his first released movie 'Dum Dum Dum'. This movie produced by Mani gave a good break to everyone involved in that movie like Maddy, Jo, Karthik Raja etc., But the director's unreleased first movie 'Udhaya' (Vijay/Simran) which hit the theatres after 'DDD' and Srikanth starrer 'Jhoot - R U ready' didn't succeed in the B.O. and hence he failed to retain his name gained in 'DDD'.
Alagu - Will he deliver his 'beauty' again?
Now his
mentor is planning to give his hand again to AP & Maddy
. Will this trio deliver another hit? No probs....We would like to receive the same.
Bharathi
'Marumalarchi' (Mamooty, Devayani) was a fresh & different movie at that time, eventhough the storyline was a common one. Bharathi's screenplay made this movie a success. But his subseqeunt movie 'Maanasthan' (Sarathkumar) didn't earn him a name .. and our DBI team couldn't locate him anywhere now. Is he there somewhere? We don't know....
Karu.Palaniappan
A nice screenplay. Fresh air. That's how I felt when Karu.Palam delivered 'Parthipan Kanavu'. This guy who worked with Parthipan, Ezhil, Tharani etc., as assistant, was very good in handling the story. But his next venture 'Sathurangam' (Srikanth, Sonia Agarwal) is yet to see the light.. It seems, the financial problems of this movie is getting over and is likely to be released next month.
kannum
'karu'
thumaa ....velai seiyraru...
Will he deliver another good stuff in this 'Sathurangam'? Let us await for a good game in this......
Lingusamy
An oneline repeated story of joint family didn't stop Lingu to deliver a successful formula in 'Anandham' (Mamooty, Devayani,Sneha). The way he delievered was unique. He continued the success run in his next movie 'Run' with Maddy & Meera. But, his bad luck got mingled with Ajith's. Their joint venture 'G' which hit the halls few months ago, failed to gain names for both of them.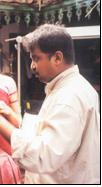 Lingu - when is the next run??
Now he is planning to direct Vishal ('Chellamae' fame), in a movie to be produced by the hero's dad. Result.. Await his news soon...
******
Since the above list itself was longer enough to munch and we are aware of other young directors' current ventures, we didn't continue our report on Murugadoss ('Dhina', 'Ramana', now doing 'Ghajini'), Sakthi chidambaram (Satyaraj movies always) etc.,
Let us hope that we will be treated by the young blood mentioned above, with some nice movies, in the coming years of Kollywood.
Courtesy: DBI officials
Photo Courtesy: Indiaglitz, Indolink.com, Cinesouth
You may be interested in our DBI team's earlier report on yester-year directors as well.
Pl. read it here.
.