Oh, B.E. is it???
.
Is this the way, we want our future Engg. grads to be questioned? No, not at all. But the current trend seem to be that way.
Anna University has come out with its ratings of the Private Engineering Colleges in Tamilnadu (awesome 227 nos.) The list given below has only 100 plus, since beyond which it is not worth to mention with their pass out rates being less than 50%. Anyhow, this is a good list for aspiring Engineering students... who would like to try these in the coming academic year.
(my post continues after the pictures... pl. proceed....)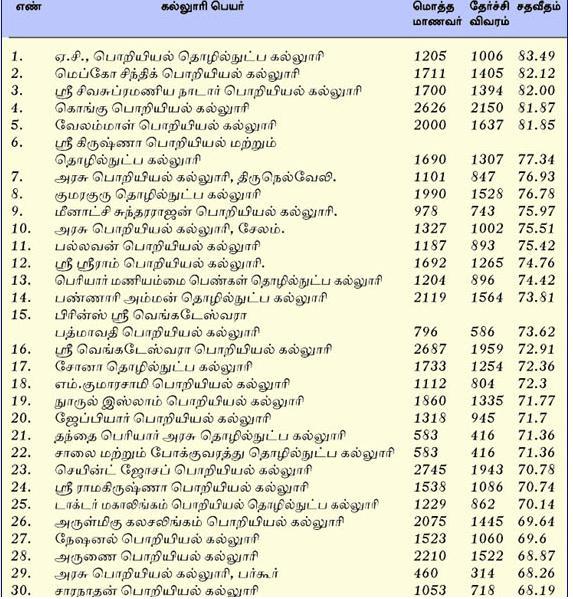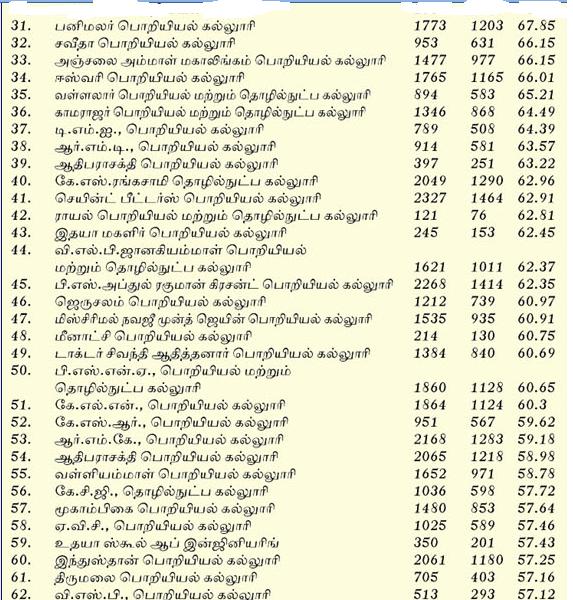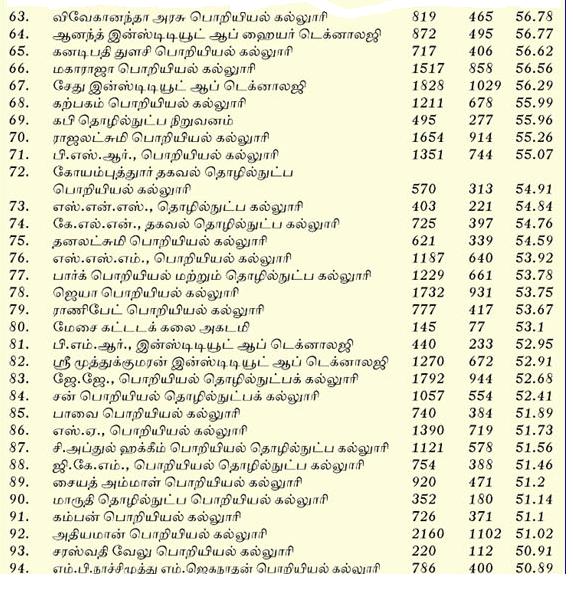 Sri Venkateswara College, Jeppiar College etc are included in the top list...If you notice, Actor Vijaykanth's privately owned "Sri Andaal Alagar" college stands at 109th place with 48.44% pass out rate.
This makes me to wonder as to whether the education system has to be streamlined, further. Just because we need more educated guys out there in the market, is there any need to grant permission to many professional colleges like this?
In my personal perception, granting of permission to so many colleges, had made this professional course to loose its charm. A decade back, when you ask someone "What is your son doing?", the parents used to beam and tell proudly that he is doing "Engg". The recepient of this answer may keep this in his mind, to motivate his son or daughter. But the opening up of the industry has allowed the growth of Private colleges like mushrooms, affecting the quality finally. (Now the recepient of a similar answer may not even motivate his son / daughter..since he definitely knows that he can get it somewhere or the other).
I know guys who had passed out of some private Engg colleges (from a southern village) after spending 3 lac Rs., and just employed somewhere as lecturers / code writers. This is merely due to lack of quality in most of these colleges. Few years ago, guys who hv money used to build a Marriage hall and earn money. Now it is the trend of buidling Engg. colleges and earning money. This has resulted in inadequate qualified teachers and ultimately poorly qualified graduates.
I am not against the policy of more educational institutions to meet the growth in the population. And I am not saying outright, that the students coming out of these colleges won't succeed. The cream students are succeeding in the life in a big way, with some higher graduation. Nowadays, a mere B.E. is not an attractive proposal for growth in the career.
This degree may be suffice just to mention in the visiting cards (of the heirs of businessmen) and Marriage invitations :-) :-) :-)
If the premier Universities take care of these aspects, before granting permissions, it would be good for the growth of the industry. Then only, we can have more (privately managed)
institutes like BIM
with a good name in the job market. Otherwise, in future we can see many B.E. grads running their own businesses unrelated to their studies. (I hv observed this trend in some quarters already).
BTW... hv they stopped granting permissions or are there anymore new institutes on the cards??
You can check out for the
Part-II of this post here..