ANNIYAN - Review

After the hype created by the movie team, media and audience, the expectations had soared too high for this movie. My expectations were also so high, since I am one among the hardcore fans of Shankar. I had never missed his movies, in the first few days. For a change, today I watched this movie on its first day, after a long gap of 15 years (I mean, first day visit). This is just because, I didn't want to get influenced by the Net reviews and wanted to make a personal assessment.

Everyone of us know that this movie carried a strong social message and got appreciation from the Censor Board without any cuts. Is it living upto the expectations? Let us go thru... Being a much talked about movie, this is little bit lengthier.

The movie starts with the daily journey of 'Rules' Ramanjum alias 'Ambi' (Vikram, the Advocate) fuming about the irresponsible behaviour of the society - whether it is spitting on the road, violation of traffic rules, poor quality materials, eveteasing in public transport, high rental charged by greedy house owners, absence of sympathy for an accident victim... and it goes on. And all these, in the first 20 minutes. These issues are being followed by Indian Railways poor food quality, uncleaned toilet etc., while travelling to Thiruvaiyaru Music Festival. (BTW.. why is he shown with a 'Kudumi' always? I doubt whether any of the younger generation is following this nowadays).

Eventhough the neighbourhood Nadhini (Sada) respects Ambi's clean thoughts, she couldn't accept his love due to lack of feelings. Instead, she falls for the high-profile ad-guy REMO (Vikram) who woos her constantly.

In the meanwhile, Ambi stumbles upon a news on Anniyan's website (the saviour of world from the evil society) and lodges his complaints thru net on several issues. (like the malayalam movie '4 The People'). Anniyan (Vikram, again) takes action immediately by cleansing the irresponsible characters from the society.
Shankar plays his part here. This time he has taken up MPD syndrome, which is nothing but Multiple Personality Disorder affecting our hero, due to the outburst of his feelings. (Just recall Sidney Sheldon's 'Tell me your Dreams' on this MPD.
Link here..
). This MPD makes Ambi to change his personality, due to the thoughts provoking him from inside. He doesn't know about the other personalities Remo & Anniyan, eventhough those two remember Ambi.

Vikram's MPD results - Courtesy: Indiaglitz
Now Sada faces the wrath of Anniyan, as she is part of a deal in which a property price is undervalued, in order to reduce the stamp charges. He chases her, only to reveal all his 3 identities (I mean Ambi, Remo & Anniyan) at the same time. Somehow, Sada escapes and takes him to a Doctor. On his advice, she starts loving Ambi, so that 'Remo' personality can go away from him. But finally, is the 'Anniyan' personality going away from 'Ambi'? Or is 'Ambi' getting punished for 'Anniyan's deeds? That forms the crux of the final few moments.

Nedumudi Venu, playing as Vikram's father and Nassar as the doctor, have less work to do. The crime branch office Prakash Raj, has a major role in circling 'Anniyan', eventhough this characterisation resembles 'Gentleman' Inspector SaranRaj going around everywhere. Vivek as 'Chaari', a friend of Ambi, comes as an assistant to Prakashraj with few comical scenes.

Before I go into the strengths & weaknesses of the movie from my point of view, I would like to share some comments on the picturisation of the songs.

If you don't start watching the movie from the intial shot, you may miss out 'Kumari..' song. Before you wink your eyes, you are taken to Amsterdam flower show, where Sada dances with Vikram. Eventhough the flower show has been shot beautifully, this song has unwanted characters like Vivek, Raju Sundaram (just because, he is the Choreographer) and few others in 'Kudumi's. They could have been avoided.
Indeed, nice picturisation. Courtesy - Indiaglitz
The much hyped Thiruvayaaru Music festival song, features the greats like Kunnakudi Vaidhyanathan, Seerkazhi Sivachidambaram, Sudha Raghunathan etc., Eventhough, the 'Iyengar Veetu.." song was well appreciated by the mass, the 'Bharatha natiyam' dance movements of Sada is not upto the mark. She struggles hard in her movements. (as in the 'Kumari..' song)

Nothing much about the 'kaadhal yaanai' song which has been picturised decently on 'Remo' Vikram and Yana Gupta in a well constructed set. Next comes, 'Kannum Kannum Nokia' shot in KL, Malaysia in which Sada tries to convert herself into a modern hifi girl. But, Sorry Sada!!!! Modern outfit doesn't suit you that well as it will for Aishwarya Rai & Simran. Better to stick to the traditional Sarees & Half-Sarees.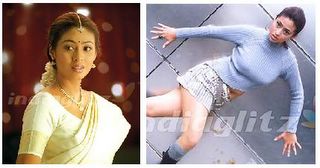 You are good in Saree, So, better stick to it. Courtesy - Indiaglitz
The colorful 'Rendakka Rendakka..' song shot near Thenkasi requires only normal dance movements, where Sada scores. The efforts gone behind the painting of so many streets, bridges, buses and cars for this song, has paid well. Indeed, they are very colorful and beautifully shot, along with the green fields.
Full of colors!!! Courtesy -- Indiaglitz
Now, my final observation

Strengths
1) Vikram excels well in his acting - particularly in the last encounter with Prakash Raj, where he shows different personalities continuously.
2) The Strong Message about the eradication of Society's Irresponsible behaviour, with few thoughtful & hilarious dialogues from Sujatha. As in 'Indian', Shankar is refering to the growth of Singapore, Japan, korea etc., from their humble start.
3) Cinematography always gets great importance in Shankar's movies. Both RaviVerman and Manikandan have not failed the audience expectations.

But, alas.. Weaknesses / Unwanted elements are more (in my perception)
1) Being in Production for more than one year, might have put so much pressure on Shankar & team. The expectations were also up among the audience, including me. But, the jumping screenplay has failed to impress me. Let me refer to few instances.
**** There were 'n' number of places where people could have informed the Police about 'anniyan' when they see both 'ambi' & 'anniyan' personalities at the same time. (like some rowdies, the Saba Secretary etc.,). They don't do it. Why?
**** In one scene, Vivek sends 'Remo' inside Sada's room. There the personality changes to 'Ambi'. When Vivek enters the room later, he never even raises a question. How come, Shankar & Sujatha? ..... big disappointment.
**** Where from 'Anniyan' is getting so much money to make a stage show to present his views? He advertises & pastes posters everywhere and meets press & public in a big stadium. There are no scenes showing public support openly, like it was for 'Indian' thaathaa. Is it implied and did the public organise such a mega show?
**** Eventhough Naasar & Sada realise the dangerous potential of 'Anniyan', nothing is being informed to the Police. Are they deciding to manage such a dangerous character on their own?
2) The love blossoming between Sada & 'Remo' personality is so immediate. She starts loving him as soon as he does some childish / comical gimmicks with the flowers, Moon & Stars, without knowing his background facts. So, my heart doesn't go for her love sequences. I missed those emotional love blossoming sequences of 'Jeans' & 'Boys' here.
3) The Big Freeze Time Slice method used for the fight sequences is pretty long. In 'Boys' this technique was wonderful when the flowers/Characters were shot in 'ale ale' song. Here, this technique makes the audience to laugh when 15 stuntmen float around in the air for nearly 5-10 seconds. Even the matrix style stunt sequences could have been reduced.

Rajini succeeded in talking about 'MPD' in his Chandramukhi. But, that was only for the last 30 minutes. Otherwise, the Fans got what they wanted from Rajini. But handling such a difficult subject even before the movie's 'intermission', is tricky. Eventhough, Shankar's regular crowd is from 'A' centre, I doubt whether 'A' centre audience can take it this time. The reason is that he conveyed all these messages already in 'Gentleman', 'Indian' and 'Mudhalvan'.

So, what else is new here? Just a cocktail - mix Sambhar Vadai ('Ambi' sequences) with Coke (flashy colorful song sequences - MTV type) & the special drink Cognac ('Anniyan's hifi killings). If you like this cocktail, then taste it... I couldn't digest, honestly.

'He who comes from Hell, is not afraid of hot ashes...' This is the slogan of this movie. Vikram had come out of failures, several times earlier. Will this be like, 'Alavandhan' for Kamal and 'Baba' for Rajini? Or will it succeed commercially?
Sify, Rediff & Indiaglitz
reviews are very much in favour of the movie. Only after finishing my review, I read them. Probably, you can tell me, after watching the movie, if I am too critical about this work. As these websites are claiming, if it becomes successful, I will also be happy for those involved in this mega project. (since so much money was involved in this project)
.