From my Childhood onwards....
.
I would like to just recollect,
Kaps' last post
on what would have been (yesteryear glamour girl !!!!) Mumtaz's ambitions, if she had not entered films. If you ask any of the existing stars, they will tell similar things, that they had the ambition to become a Computer Engineer, Doctor etc, etc.
But, you cannot stop anyone from having their own ambitions. They may be true to themselves when they reveal such ambitions to the press. I can remember actresses like Gowtami, Kanika ('
Five Star', 'Autograph'
) who were in Engineering Colleges at the time of their entry. Atleast, these stars entered after a particular age..(accidentally, as they claim!!!).
But, what about the child artistes who shine in the cineworld at a young stage with their cute, charm faces? They take away our hearts with their performances, when they are young. Are they going back to their original lifestyle with their ambitions of pre-acting era? I had observed that in most of the cases, the high profile child artistes come back to the tinsel town later-on, with the ambition of achieving big as heroes and heroines. The noted exception was Shamilee of Mani's
'Anjali'
fame (Shalini's sister). Surprisingly, she didn't enter the domain again (so far!!), even after showing her face as a grown up girl in
'Kandukondein Kandukondein'
.
The driving factor must be either the lure of the cine fame or the parents who force their kids into the industry again. However, only a few were successful and remained at the top for long years. Straightaway, I can pick up KamalHaasan & Sridevi.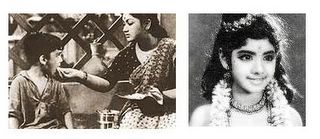 Kamal & Sridevi - Ruled the roost for a long time
They were the successful icons, for those child artistes who entered the filmworld subsequently. But everybody couldn't make it to the top. I hand picked few who really made themselves visible.
Vijay
- SA.Chandrasekhar promoted him as a child artist in many of his movies, before making him a hero. Now, he is on the top on his own.
Simbu @ Silambarasan
- He had talked too much as child artist, like his Dad. Now he is riding on his
'Manmadhan'
waves. Yet to see, if he can leave his mark continuously.
Shalini
- It was unfortunate that such a wonderful child artiste turned heroine had gone into the shell, after her marriage with Ajith. It was a loss to the industry as well as many hearts...
Meena
- She transformed herself completely from
'Anbulla Rajinikanth'
to
'Ejamaan'
to
'Shock'
. But, is there anymore stock in her hands?
Shalini & Meena - With a proper acting calibre
And few others, who hit my mind are...
Rohini
- After being a child artiste in Telugu movies, she entered thru
'Illamaik Kalangal'
with Mohan and now is appearing in Mom / Sis Characters.
Sridevi Vijaykumar
- People remember her as the chubby girl of
'Rickshaw Mama' & 'Amma Vanthachu'
. But, still she couldn't impress the audience, with her heroine roles of
'Kathal Virus', 'Thithikkuthae', 'Devathaiyai Kandein'
etc., Will she stay or move out from the big screen like her sisters Vanitha & Preetha?
Chubby gone..Beauty now.. But, Survival??
Tharun
His memorable brother role in Mani's
'Anjali'
brought him a lot of fame. Now he has made his mark in Telugu movies, eventhough his tamil movie
'Enakku 20 Unakku 18'
flopped. Still, he is continuing his high ride there.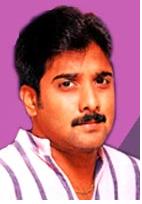 Will luck favour him in tamil?
Atleast nowadays, the yesteryear cine kids have an option, without losing their dignity. They enter the satellite channels as VJs or emoting artists. Take few of them...
Anju
('
Uthirip pookal' 'Azhagiya kannae'
cute girl &
'Keladi Kanmani'
heroine)
Neena
(
'Keladi Kanmani'
kid &
'Vidukathai'
heroine)
Vinothini
(Child artiste & Balu Mahendra's
'Vanna Vanna Pookkal'
heroine)
Priyadharshini
(
'Thavani Kanuvgal'
to SUN TV Compere role)
Gayathri
(
'Paasa Malargal'
to Sun TV's 'Metti Oli')
Sonia & Tinku
(The real life Sis & Bro of
'My Dear KuttiSaathaan
'.. Tinku now in Sun TV's 'Kolangal')
Sujitha
(Still couldn't forget that frightened eyes of Fazil's
'Poovizhi Vaasalilae',
now in Sun TV's 'Kanvarukkaaga')
Ganesh
(now in Sun TV's 'Top 10 Songs' programme, after acting as Junior Rajini in few movies like
'Siva'
)
Suresh
(a successful director in Telugu now, after those memorable 'Daddy Daddy oh my Daddy' song in
'Mouna Geethangal'
and some 'Junior Rajini' Characters)
Eventhough the trend is not that great, the ambition of becoming big in cineworld, grows well in the budding child artistes' minds. Forget about ambition of becoming a professional, in other fields...... Only in few rare cases, it happen. Otherwise, you can expect today's child artist as a hero or heroine in tomorrow's movie.
The latest in the ring is Kalyani of 'Alli Thantha Vaanam' fame (She equalled Prabhudeva in her steps amazingly, in that 'Chenna Pattanam' song). I am just wondering about the years which are flying like anything. Just yesterday, I remember seeing her as a child artiste in that movie & couple of ads.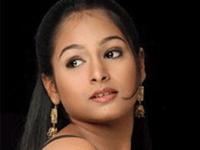 Missing that cuteness of 'ATV'
Today,
she is the heroine of a new movie
(with Pandiarajan's son). Can she survive in this competitive field as heroine??? Keep the fingers crossed.....
There are some more potentital future heroes like K.Bhagyaraj's son Santhanu (
'Vettiya Madichu Kattu'
boy), P.Vasu's son (remember junior Prabhu in
'Chinna Thambi'
) etc., Will they go to some other profession or lured by this industry again?
Now, going back to the title of this post. The trend what I had mentioned just above, may make them to say 'From my childhood onwards..., the ambition was to become a big hero / heroine....'. Because, the glamour industry pulls them back in to the ring, more often. (Once tasted, the fame doesn't allow them to go away). But, success rate is a mere luck. Amidst that, preserving the dignity & fame gained as a child artiste, is solely in their hands.
Report Courtesy: Our DBI Team
Photo courtesy: starwelove.com, indolink.com, Indiaglitz.com
If you had missed
this related tamil post
earlier, pl. visit now. You may like it...
.