Let me Direct too
.
(Caution: Beware of the length of this post. It may be injurious to your precious time)
In the last couple of days, I had observed several Cinematographer-turned-directors hitting the headlines.
BaluMahendra ('Athu Oru kanakalam')
Thangar Bachan ('Chidambarathil Oru Appasamy')
Jeeva ('Ullam Ketkumae')
KV.Anand ('Kana Kanden')
Vijay Milton (For Cheran's new movie)
Does it mean that many more Cameramen will be vying for the director's role in future? Possibility is there.. But what about the success rate? Let us spend some time with the existing personalities and find out....
Balu Mahendra
- alias Benjamin Mahendra, a National award winning Cameraman-cum-Director, had made several interesting movies. His directorial debut '
Kokila
' in Kannada bagged him the National award (in addition to several other national awards). His first tamil movie
'Azhiyaatha Kolangal'
was a wonderful piece at that time, different from the main stream cinema, which made the audience to turn their attention to this person.
Courtesy: The Hindu
Most of his movies had strong female characters - like Shoba, Mounica, Saritha, Sridevi, Archana, Revathi etc., He balanced their potential with his camera and message, with which he handled several issues at ease. With these strengths, he made
Kokila (kannada), Azhiyatha Kolanagal, Moodu Pani, Moonram pirai, Neengal Kettavai, Veedu, Sandhya Ragam, Rettai Vaal Kuruvi, Vanna Vanna Pookkal, Marupadiyum, Sathi Leelavathi, Raman Abdullah, Julie Ganapathy
and few malayalam movies like
'Olangal' 'Yathra'
etc., Most of the movies were talked-about ones, irrespective of commercial success.
After a break from the main stream cinema, he is coming back now with
'Athu Oru Kanakaalam'
. Hope this movie does magic in the box office, to give a mental strength to this director and Dhanush (whose status is at an all-time low).
Ashok Kumar
- The ace cameraman who had worked in films like
Sooriyan, Jeans
, Nanditadass's
'Sandstorm'
(hindi) etc., had directed several controversial movies earlier. His
'Andru Peitha Mazhaiyil'
, the remake of 'Fatal attraction' was a controversial one at that time. He followed that with some hindi titles
'Kaamagni', 'Khajuraho'
with his son in the lead, to woo the crowd. Even then, he couldn't register himself as a successful director, inspite of his nice camera tactics. His name was well known for his Cameraman role rather than the director role.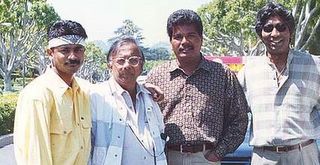 With 'Jeans' Team -- Pic Courtesy: TamilEntertainment.com
Suresh Menon
- He came to the light all of a sudden when Revathy announced her marriage with him, during
'Punnagai Mannan'
s shoot. After marriage, he tried his luck into production & direction of
'Pudhiya Mugam'
(Vineeth & Menon himself) and
'Paasa Malargal'
(Arvind Samy, Revathy). But he couldn't succeed as a director, irrespective of Revathy magic. After making couple of tele serials, he is not in the scene anymore even as a cameraman. Does anyone know?
BR.Vijayalakshmi
- India's first woman cinematographer & daugher of yesteryear family director Bandulu, directed
'Paatu Paada Vaa'
, which didn't succeed well in the BO. (just recall that jogging song
'Nil nil nil, pathil sol sol sol..
' by IR). It seems, she has now moved into TV productions, after staying behind the camera for a while. Wise lady...and nice move.
PC.Sriram
- He shot to the fame & is remaining at that level still, with his splendid work in films like
Mouna Raagam, Nayagan, Agni Nakshatiram, May Madham, Kadhalar Dhinam, Idhayathai Thirudhathe, Apoorva Sagotharargal, Gopura Vasalile, Thiruda Thiruda and Alai Payuthey
.
This Picture itself is poetic, isn't it? Pic Courtesy: Rediff
Eventhough he succeeded well behind the camera in movies & ad films, his directorial ventures didn't succeed commercially. Vikram's 'Meera' was a complete wash out, even though Kamal's 'Kuruthi Punal' and the recent 'Vaanam Vasapadum' were well appreciated for their stories. Hope to see many more magical camera work from this gentleman, who had trained many more young Cinematographers.
Rajiv Menon
- Son of Mrs.Kalyani Menon (a Carnatic Musician - who delivered the initial lines of ARR's 'Alai Payuthee' number), he made his mark as a director with his hit-products 'Minsaara Kanavu' and 'Kandukondein Kandkukondein'. He had handled such a big star cast in both the movies successfully, eventhough screenplay wise he didn't impress me that well.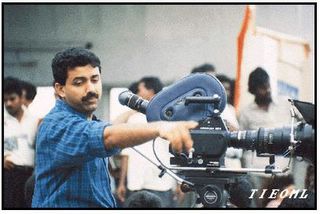 Handsome director. Pic Courtesy: ScreenIndia.com
Eventhough, his work as a Cinematographer for movies like Mani's
'Bombay'
, Girish Karnad's
Cheluvi
(Kannada), Shabna Azmi's
'Morning Raga'
(Hindi) were well appreciated, he prefers to work more for ads. He has proved that he is a good master to extract emotions within that 1 minute. Just recall, some of his hit ads -- Horlicks, Coke, Cadburys, 'Shu shu Sugar boy' Bru ads. He even acted in one of the teleserial from Revathy's house. A capable guy, to act as an hero also.., if there is anyone to exploit it properly.
Santosh Sivan
- He cranked the camera for several intersting movies like
Thalapathi, Roja, Indira, Iruvar, Dil Se, Kalapani
(Malayalam),
Fiza
(Hindi)
, Meenaxi:tale of 3 cities
(Hindi), etc., Most of them were well noted movies, thanks to Sivan as well as the directors like Mani, Priyadharashan, MF. Hussein. In addition to winning the five national awards for cinematography he fulfilled his ambition of direction with movies like
The Terrorist, Malli
, Shah Rukh's
Ashoka
etc.,He was acclaimed internationally for several of the above ventures.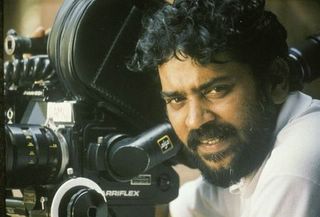 Courtesy: The Rediff
He was in the headlines recently, for
a new malayalam movie
. Hope to see many more classics from this potential person.
Thangar Bachan
- He was behind the camera for many movies like
Kadhal Kottai, Kaalamellam Kathal Vazhga, Bharathi, Pandavar Bhoomi
etc., before moving into direction. Eventhough, his directorial ventures
'Azhagi', 'Solla Marantha Kathai' & 'Thendral'
came out well, he couldn't make them commercially successful. Now he is getting into his new venture
'Chidambarathil oru Appasamy'
with Navya Nair. His risk taking ability has to be appreciated well, because he is doing the lead role too. Keep the fingers crossed.. He may repeat the magic of 'Azhagi'.
Great Risk taking ability. Pic Courtesy - Yahoo
Jeeva
- Inspite of his good run as a cameraman in movies like
Vaali, Kushi, Snehgithiye, Run, Sachein
etc., his stint as a director didn't run smoothly. His first movie
'12B'
was not a commercial hit eventhough it had both the top heroines of that time. His next venture
'Ullam Ketukumae'
got released now (thru Supreme Court order), after staying in the can for 2 years. Eventhough, both his movies got decent reviews, BO success was not tasted by him. Will he go back to his Camera works in full swing & continue to register his name there?
KV.Anand
- A talented former assistant of PC.Sriram, moved back to the headlines once again, for the reviews he got for his directorial debut
'Kana Kanden'
. He, who got the national award for his very first film (Malayalam `
Thenmavin Kombathu'
) has done several other memorable movies too as a Cameraman. Look into the list -
Kadhal Desam, Mudhalvan, Virumbugiraen, Chellamae, Josh, The legend of Bhagat Singh, Khakhee
etc., Hope he can deliver a lot more, in the near future.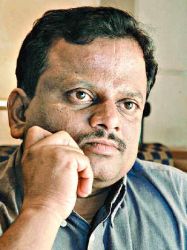 Courtesy: The Hindu
Vijay Milton
- had done some wonderful work behind the camera in movies like Vijay's
Endrendrum Kaathal
,
Autograph
, Srikanth's
Bose
, the latest sensational hit
Kaadhal
etc., Now he is trying his tricks as a director in Cheran's new production '
Azhagay Irrukirai Bayamai Irukiradhu'
with Bharath in the lead. (Following the hindi films, in lengthy naming conventions) Can this new director make the entry a memorable one for him, like his other camera works? Too early to say, but let us wish that he does it.
Our Team's analysis shows that every C-T-D is not winning the race. Still, nothing wrong in some more directors in the fray. However,they should know that they can't depend on their camera skills alone. Something more are required for a director's role, which are the story and screenplay. If they can provide some interesting stuff, the audience will allow them to succeed in their new roles as well.
Let us wish for more breeze in the filmworld with this technically excellent directors.
Report Courtesy: Our DBI team officials
.