Lonely island
.
He didn't know how long he was lying in that boat. Her soft touch made him to come to senses and the real world. She helped him to come out of that calm sea and took him to the deep jungle.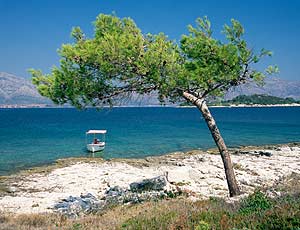 She was the only soul in that island. He didn't even question whether she reached that place like him. He was not in a state to ask such a question.
He couldn't recollect his past memories and he didn't want to (!!!). The way she took care of him & his injuries, made him to fall for her immediately. So, what's the need to think about the past? He felt that she was also emoting in the same way, as he did.

But, somebody telling something.. he could recognise that voice. Just listened carefully..."Take the cycle and go to the nearby shop to buy some milk". But, where to get the cycle and where the shop is, in this lonely island? He shrugged that voice away.. He took her in his arms and started going around the jungle with some nice music (!!). Oh...those rain drops added some more, to those moments. He wiped out those drops and continued walking.....

Somebody started shaking him wildly and she disapppeared suddenly.....

Oh..no.. I got up from my bed. Mom was just standing beside me with a cup of water to sprinkle further. This used to be a happening several years back (eventhough not regular). The background would change, events would change and somehow I would be disturbed at the climax. They were all nothing but the effect of movies once again......

When I observed the above pic in 'The Economist' last week, this dream of mine came to my mind. I'm just wondering about the use of reading magazines...."Economist" is for reading some useful facts, isn't it?
.
134th post