Ullam Ketkumae - Review
.
The ultimate order from Supreme Court for the movie's release (which was in the box for nearly 2 years) has fetched the appreciation, its director deserves. The story still looks fresh, eventhough you can observe few scratches on the film roll as if it was an old movie.
The movie intitally named as 'PEPSI' (the first letter of the main characters) revolves around
P
riya,
E
man,
P
ooja,
S
hyam &
I
rene, during their college days & the present day life. Asin, Arya, Laila, Shaam & Pooja's roles are lively. Eventhough, it was their debut movie Asin, Arya & Pooja have expressed very well.
The film starts with the marriage function of the famous cricketer Eman (Arya), for which the friends start pouring in. Priya (Asin) married to a famous Dentist, Shyam (Shaam) a famous Mumbai designer, Irene (Pooja) still single eventhough she loved Eman a lot, and a lot more friends. Pooja (Laila) joins them later, from U.S.
As usual, the class rooms are not shown in any of the scenes. It seems, it is strictly prohibited nowadays.... :-) :-) The college friends have fun with their games, cultural competition along with the love sequences. Laila loves Shaam, eventhough he loves Asin who is a very practical person.Ulimately, Laila goes to US for her further studies & Asin marries the dentist proposed by her parents. Eventhough, Irene & Eman love each other, Irene pushes him to achieve his career ambition, forgoing her love. At the end, Laila reveals her love to Shaam which he accepts.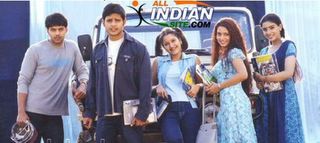 Courtesy: All Indian Site.com


Strengths
** Each & Every character has fulfilled their roles' requirements, with perfection. Whether it is boyish Laila, practical Asin, college-romeo Shaam, Arya or Pooja.
** Evergreen writer Sujatha's dialogues are noteworthy. Has he reached 70 so soon? Couldn't believe it, due to the youthness prevailing through out the movie. His dialogues are too good in many places, especially between Shaam & Arya at the end of the Cultural Competition. Arya differentiates Asin from others, as she is a 'Mind ruler' (being a practical person) compared to Shaam,Arya & Laila who are 'Heart rulers'. Another place to note down is, when Asin refuses to accept Shaam's proposal citing practical reasons. He is even hilarious at several places.
** Since the music album by Harris Jeyaraj was released long back, it didn't create a big hype recently in the market. Still, the songs are fresh to watch. Especially, Ennai pandhada (Srinivas, Madhumita), Mazhai Mazhai (Unnikrishnan, Harini), Dho Dho (Franko).

Weaknesses
** Too many flashbacks, hamper the proceedings.
** Screenplay could have been improved further, since it is still loose & has some unwanted portions. (Ex: the lengthy Intercollege Cultural competition sequences). However, it is still better than Jeeva's previous '12B'.

Eventhough, the actors & technicians have delivered their best, I couldn't vote for the movie whole-heartedly due to lack of tight screenplay & few dramatic moments (like the last Airport scene... When are they going to change these locations?). Last week, I read a report that the Court receivers are going for more prints since the word of mouth is good in the industry. Definitely, Cinematographer-turned-Director Jeeva has not failed their expectations.
He made me to miss my college / school mates very much, once again....

Tit-Bits
** Saravanan Subbiah's next movie ABCD also follows the same naming convention, which Jeeva initially thought of for this movie (i.e. PEPSI).... first letter of the characters' names. Shaam is acting in ABCD as well.. Is it a mere coincidence?
** Arya is coming out as a full fledged hero in 'Oru Kalluriyin Kathai' after his roles in 'Arinthum Ariyaamalum' & 'Ullam Ketkumae'. He has the ability to win. Let us hope he does it.

Just have fun, by reading this earlier post of mine.... which is nothing but naming convention in tamil film industry.
.