Unusual search for a Commercial Director
He is famous for his typical commercial tamil entertainers. He has given them with the right mix of humour, sentiments, stunts etc, etc., But he is missing in action for more than one year, which is unusual to his nature.

He is none other than our K.S.Ravikumar. He used to churn out 2-3 movies a year, in the intial days of his career. Now, what has gone wrong? Is it for the betterment of the industry, that he has taken off for so many months???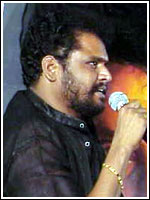 Aware of the audience pulse
I still remember a TV interview in which he said that his aim is to make profits for everyone concerned. He followed, what he said. Eventhough, he was an one-time assistant director to Vikraman (during the shoot of 'Pudhu Vasantham'), he was different from Vikraman. While Vikraman was trying to give realistic movies (!!!), KSR concentrated clearly on entertainers. All his initial movies were sponsored by 'SuperGood films' RB.Choudry and everybody made money as targetted.

However, he made many less-known (or you can say unknown) movies like Pudham Pudhu Payanam, Bandmaster, Sakthivel, Muthu Kulika Vaarigala, Periya Kudumbam (Prabhu), Parambarai (Prabhu), Dharma Chakkaram (Vijaykanth), Pista (Karthik), Minsara Kanna (Vijay) etc. These might not have pinched the producers' hands. I have not watched most of these.
Still KSR was able to survive & remain well-known, due to his successful combination with Rajini, Kamal & Sarathkumar. Most of his movies with these stars succeeded well in the box office, with some good comedy & sentimental stuff. He is one of the directors who continuously survived without the Maestro Ilayaraja's music. (
pl. correct me here, if I'm wrong
)
With Rajini
-
'Muthu'
was a great comedy as well as controversial movie of that time, followed by the great blockbuster
'Padayappa'
. KSR delivered both in an enjoyable format. (these are the only movies of Rajini with ARR, other than Sureshkrishna's '
Baba'
).
With Kamal
- Nothing more to tell about their fantastic combo in '
Avvai Shanmugi', 'Thenali' & 'Pancha Thanthiram'
. The movies speak by themselves. Even now, you can watch these comedies again.
With Sarath
- He delivered few sentimental hits among their bunch of movies viz.,
Cheran Pandiyan, Oor Mariyadhai, Naataamai, Natpukkaaga, Paattali, Samudhiram, Paarai
etc., Sarath is the only hero, with whom he has done more movies. Whenever Sarath needs to give a hit, he used to combine with KSR for a movie in less no. of days. That's KSR's strength. (Sarath's graph is steady now.. otherwise we could have expected another venture from him thru KSR!!!!)
You can name some more hits which KSR delivered like
'Puriyadha Pudhir'
(his debut movie, a thriller),
'Villain'
(Ajith),
'Ethiree'
(Madhavan) &
'Suyamvaram'
(the multistarrer/multidirector record movie shot in less than 24 hours -
not sure if it is really a hit!!!
).

But badluck is still haunting this director, for the last one year.

* Initially, it was well publicised 'Jaggubhai' with Rajini. After a big hype, the movie was scrapped.
* Then there was a news that he would direct Dhanush with Harris Jeyaraj music. It is nowhere now.
*
The recent debacle is with our undependable Ajith's 'Godfather'
. Ajith wanted to repeat his winning combination of 'Villain' with KSR. However, the hero's relationship with the producer turned bitter, which made Asin to go ahead with her other projects like Ghajini/ Sivakasi/ Maja(expect a name change). Inspite of all the problems, it seems KSR is working hard to bring out this for the coming Deepavali. AR.Rahman is anyhow there to help KSR out of the mess with some great music. Let us see, if the ladyluck will smile at KSR again (particularly on Ajith, since KSR will survive somehow).
Who needs to survive, Ajith?
* Now, there is a news going around that
KSR may team up with Simbu
(after 'Vallavan') for a new movie to be remade out of the telugu hit 'Bhadra'. Will it happen or will it become like Dhanush fiasco? (We don't know the status of Simbu-SJ.suryah project 'A-C'. Is Simbu going the Dhanush way with too many talked about projects?)

You cannot expect a logical movie from K.S.Ravikumar (like we expect from few notable directors). However, he is capable of giving some watchable stuff. Hope to view many more laughable entertainers from him..... As usual, I end this post with my 'Let us keep our fingers crossed!!!'
Have a cool weekend ahead !!!!! Cool.. Cool... Cool... (whirpool style)
Search Courtesy: Our DBI team --- Pic Courtesy: Sify.com, Indiaglitz.com